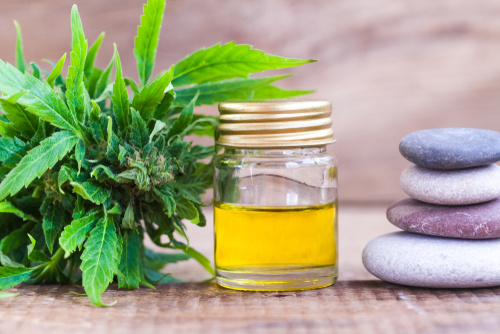 Is CBD e-liquid (cannabidiol) beter dan CBD olie?
CBD (cannabidiol) is als olie een zeer populair supplement dat helpt om je lichaam in balans te brengen bij ziekten, stress en verschillende stoornissen. Het heeft een rustgevendeinvloed en draagt daarmee bij aan een goede gemoedstoestand. En nu is het (eindelijk) ook te koop als e-liquid, helemaal kant-en-klaar voor in jouw e-sigaret. Maar is de e-liquid ook beter dan de CBD olie? CBD e-liquid dampen is een smakelijke en vooral makkelijke manier om cannabidiol te consumeren.
CBD e-liquid vs olie
Er zijn vele manieren om CBD olie als natuurlijk effectief gezondheidsmiddel te gebruiken, maar cannabidiol in e-liquids is ongetwijfeld één van de lekkerste manieren. Wanneer mensen CBD gebruiken, denken ze in de eerste instantie vaak niet aan het dampen van cannabidiol. CBD in de vorm van een e-liquid is een gemakkelijke en smakelijke manier om je dagelijkse dosis CBD binnen te krijgen. Want in tegenstelling tot CBD olie kun je bij de e-liquid gemakkelijk de juiste dosering bepalen. Om het helemaal bijzonder te maken, is de e-liquid verkrijgbaar in verschillende verrassende smaken, zoals aardbei, mango en mint. Zo beleef je iedere keer opnieuw een nieuwe smaaksensatie. En dit terwijl de CBD een ware weldaad voor je lichaam is!
De grootste voordelen op een rij
Het gebruik van CBD e-liquid brengt dus veel voordelen met zich mee. Wij zetten de grootste voordelen voor je op een rij:
-       Het is gebruiksvriendelijk
-       Een snelle opname van de werkzame bestanddelen van CBD
-       Bevat alle heilzame eigenschappen van CBD
-       Geen psychoactieve werking (je wordt er dus niet high of stoned van)
-       Geen inhalatie van schadelijke stoffen, zoals bij roken wel het geval is
-       Gemakkelijk om de juiste dosering te bepalen
-       Verkrijgbaar in verschillende smaken
Het gebruik van CBD e-liquids
Net als bij normale e-liquids kun je CBD e-liquids verdampen met een e-sigaret. Ook het vullen van jouw e-sigaret met CBD e-vloeistof werkt hetzelfde. De meeste e-sigaretten zijn geschikt voor het verdampen van deze e-liquids. Wil jij gedurende de hele dag een kleine dosis CBD binnenkrijgen? Dan is de Cannabidiol e-liquid de beste keuze voor jou!
CBD e-liquid kopen
Wil je CBD e-liquid kopen? Wacht dan niet langer en bestel jouw favoriete smaak en gewenste concentratie gemakkelijk en snel bij Just Like Smoking. Je bestelt bij Just Like Smoking heel eenvoudig: via je laptop of pc of vanaf je tablet of smartphone!
Vragen over het kopen van CBD e-liquid?
Just Like Smoking heeft als missie om jou de allerbeste dampbeleving te bezorgen! Dus heb je nog vragen over onze e-liquids, dampbenodigdheden of het bestelproces? Of wil je meer weten over de CBD e-liquids? Neem dan gerust contact op met onze klantenservice. We zijn elke werkdag van 09.00 uur - 18.00 uur bereikbaar op telefoonnummer 013-7370138. Wij voorzien je met alle plezier van een persoonlijk advies en beantwoorden graag al jouw vragen.